Pitches
NEW!
Comfortable pitch all surrounded by vegetation, 200m², water, drainage facilities and 10 Amps of electricity. Booking are recommended for a minimum of 7 nights (booking fee).
To you the space! You need space for your original equipment? Friends, big Family, you want to be all together? Or just to feel comfortable…
NEW!
For even more space and comfort…
Campsite "Domaine de la Bergerie" in Vence offers since 2017 pitches with sanitary and private kitchen.
The pitches S are equipped with a private sanitary unit with shower and toilet, and kitchen corner (sink, cooking plate, fridge), installed on a spacious plot of 150m².
At the foot of the Vence Mountains and the bizarre Vence Pass, in preserved a hub of nature and a Mediterranean forest, you are free to choose the pitch that best suits you – among the oak trees or pine trees, between the birds and the squirrels. Our multitude of pitches (450) mean that you can arrive whenever you want, even during the high season.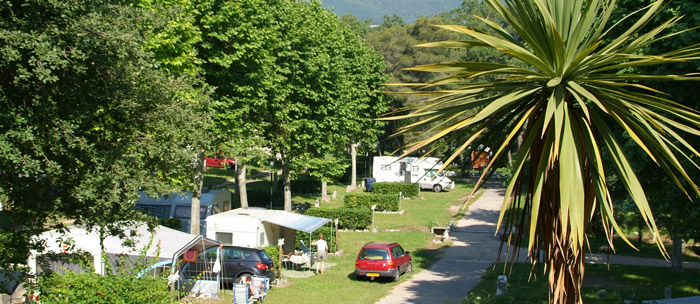 RATE PER NIGHT (departure before 12 noon)
The Domaine de la Bergerie package includes: 1 Pitch + (2 people + 1 car + 1 caravan or 1 tent) or (+ 2 persons +1 camper) :
Pitch type

Package

Pitch only

Low season
(25/03 to 30/04)
(01/10 to 15/10)

Mid Season
(01/05 to 30/06)
(01/09 to 30/09)

High Season
(01/07 to 31/08)

Low season
(25/03 to 30/04)
(01/10 to 15/10)

Mid Season
(01/05 to 30/06)
(01/09 to 30/09)

High Season
(01/07 to 31/08)

Pitch A (without elect.)
€ 14.50 + T.T
€ 18.00 + T.T
€ 28.00 + T.T
€ 0.80
€ 3.60
€ 12.80
Pitch B (2 AMP)
€ 17.50 + T.T
€ 22.00 + T.T
€ 33.00 + T.T
€ 3.80
€ 7.60
€ 16.80
Pitch C (elec. 5 AMP)
€ 21.50 + T.T
€ 27.00 + T.T
€ 38.00 + T.T
€ 7.80
€ 12.60
€ 22.80
Pitch C (elec. 10 AMP)*
€ 23.50 + T.T
€ 30.00 + T.T
€ 42.00 + T.T
€ 9.80
€ 15.60
€ 26.80
Pitch D
(200M² +elec. 10 AMP)*
€ 26.50 + T.T
€ 33.00 + T.T
€ 48.00 + T.T
€ 12.80
€ 18.60
€ 30.80
Pitch S (150M² +elec. 10 AMP+ private bathroom+kitchenette)*

Minimum stay 3 nights

€ 32.50 + T.T
€ 42.00 + T.T
€ 58.00 + T.T
€ 18.80
€ 26.60
€ 39.80
C, D, S = water + waste water.
(*) limited place = reservation strongly recommended
T.T. = Tourist tax, €0.40 per night and per person over the age of 18

People
€ 5,50
Child (from 3 to 7 years old)
€ 4,00
Car
€ 5,00
Bike / boat / trailer
€ 2,50
Caravan / tent
€ 3,00
Camper
€ 8,00
Extra for 5 AMP
€ 2,50

Fridge 

(limited number reservation for minimum 5 nights)

€ 6,00
Dog
FREE
Low season discount
*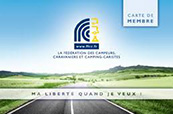 *

10 nights: 10% off
20 nights: 15% off
30 nights: 20% off
High Season discount
25 nights: 15% off
* see conditions with the campsite Domaine de la Bergerie Vence Côte d'Azur France
Request a reservation / information: